Heritage, visit, Cities and villages dans la Meurthe-et-Moselle
Add to my travel notebook
Register your touristic spot dans la Meurthe-et-Moselle it's free (in French)
See accommodation nearby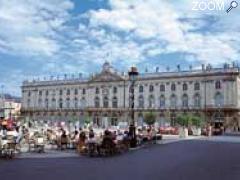 TVORG-2315
Update informations
Disponibilités
Visite.org
54000 Nancy (Meurthe-et-Moselle)
Up to the middle of the 17TH century the Old Town and the New Town of Nancy were separated by a vast esplanade. Stanislas Leszczynski an exiled king of Poland who had become Duke of Lorraine in 1737, planned to create a square intended to honour and glorify his son-in-law Louis XV of France. The foremost of French royal squares, it sanctifies the royal image but at the same time is the setting for all popular festivities.

Stanislas and his architect Emmanuel Héré chose an ideal site for their project which was opposed to for a long time by Marshal de Belle-Isle, French military commander of the province. The foundation stone of the first building in the square was officially laid in March 1752 and the royal square solemnly inaugurated in November 1755.

At the beginning a bronze statue of Louis XV in the uniform of a roman general, the work of two sculptors Guibal and Cyfflé, decorated the centre of the square. The statue along with surrounding allegorical figures disappeared during the French Revolution and it was only in 1851 that a new statue, this time of Stanislas, was erected in its place.

The buildings round the square are classical in style with a play of colossal orders. The City Hall takes up the whole of the south side. The pediment above the main entrance is decorated with the coats of arms of both Stanislas and the town of Nancy. The present day Grand Hotel and the Opera House stand on the east side.

On the west side we find the Jacquet dwelling and the Fine Arts Museum which was in Stanislas's time the College of Medecine. To the north the passage between the Vaudemont and Haussonville Bastions was still in existence and in order to maintain it on military defence grounds Emmanuel Héré conceived the " basses faces ", buildings which were only the height of the first level of the others round the square.
Register your touristic spot dans la Meurthe-et-Moselle it's free (in French)